About me
My name is Paul Gorman. I was born in 1976, and grew up in a suburb of Detroit, Michigan. At Western Michigan University, I majored in Philosophy and English Literature. I now work as Director of Information Technology for a property management company in southeast Michigan. My numerous hobbies include computer programming, writing, and roleplaying games.
My favorite websites
Lists of my favorite books, movies, music, etc.
A list of my favorite words
My Amazon wishlist
How to contact me
How to contact me
The best and fastest way to get in touch with me is through email. The address is paul at paulgorman.org.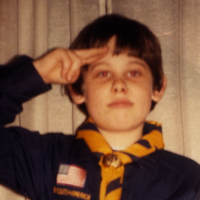 Me, circa 1985.
© Paul Gorman